Brookings Takes PeeWee 'A' Title
BY DYLAN HUGGINS sports@yankton.net | Posted: Sunday, February 19, 2017 9:25 pm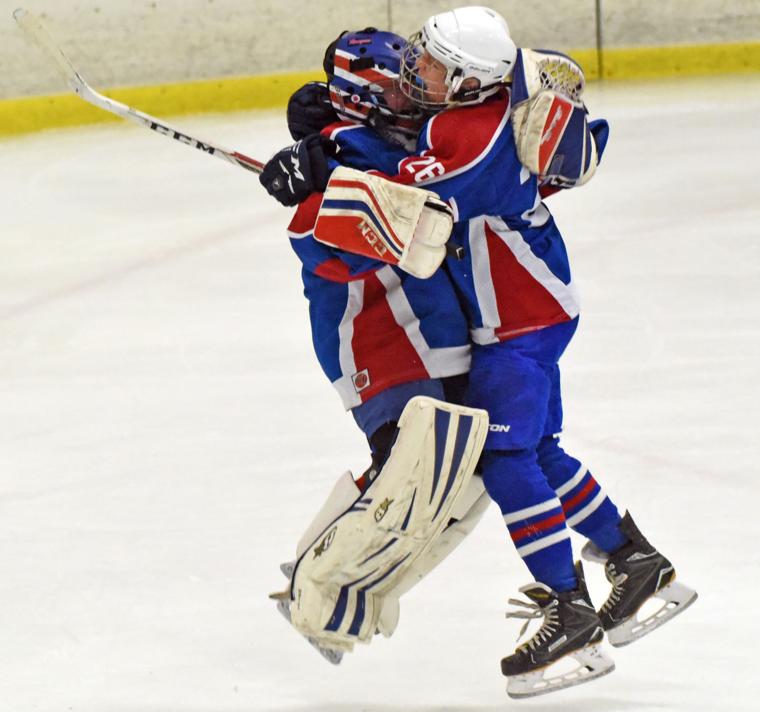 Championship Celebration
Brookings goalkeeper Holden Richardson, left, and teammate Jacob Drew celebrate after the Rangers clinched the state title with a 5-4 victory over Rushmore at the South Dakota Amateur Hockey Association PeeWee 'A' Championship game on Sunday at the Kiwanis 4-H Ice Center.
Despite three Rushmore goals in the third period, Brookings held on to win the PeeWee A State Hockey Tournament 5-4 at the Kiwanis 4-H Ice Arena in Yankton on Sunday.
"Our guys have done such a tremendous job all season, we just asked them today to show up, give us three hard periods, win the battles and win the races," Brookings coach Clint Johnson said. "They did all of that and just clicked as a team."
Brookings coach Zach Larson said that his team's ability to stay composed during Rushmore's comeback played an important factor in his team winning the championship.
"I think it says a lot about our composure, because it's a really young group and we have a lot of first year pewees who have never been in this position before," Larson said. "It shows a lot about their composure and their willingness to compete."
The Brookings Rangers scored three goals within the first three minutes.
Isaac Schulte scored the first goal of the game off an assist by Trenton Pederson with 13:58 to play in the first period. Brookings scored again with an unassisted goal by Talon Richter. With 12:26 to play in the first period, Breck Hirschoff scored and Brookings led 3-0.
The Thunder's first goal of the game came from Hunter Walla with 1:53 to play in the first period.
The Rangers scored their fourth goal of the game with 4:44 to play in the second period. Logan Bortnem scored Brookings fifth goal with 3:05 to play in the second period. Brookings led Rushmore 5-1 after two periods.
The Thunder had a huge response in the third period. Kael Delzer scored a goal within the first 45 seconds of the period. Delzer also scored Rushmore's other two goals. With 8:04 to play, Diezer goal cut Brookings lead to 5-4. The Rangers survived the comeback by a score of 5-4.
Breck Hirschoff finished with two goals in the win for Brookings. Logan Bortnem, Talon Ritcher and Isaac Schulte each had one goal. Trenton Pederson , Ashton White and Ritcher each had an assist. Holden Richardson had 25 saves in the win.
For Rushmore, Delzer scored three goals and Walla scored one goal. Jed Jenson and Alexander Dietrich each had an assist. Michael Habbe had 19 saves in the win.
"We've had great practices leading up to the tournament, but we need three periods of hockey every game and we haven't been getting that, but this weekend we did," Larson said.
Follow @dhugg23 on Twitter.